It's not a secret that traditional TV viewing has decreased in recent years, but how does that impact how brands advertise? Not only is thorough and well-planned content strategy vital to capturing audience attention (see recent blog), but revisiting how your TV marketing spend is allocated is critical, too.
According to The Nielsen Total Audience Report for the second quarter of 2017, 69.5 million TV households own at least one internet-enabled device that can stream content. This includes an enabled multimedia device, an enabled Smart TV or an enabled video game console. With the online interconnectivity of these devices, people are watching TV in a whole different way through such streaming platforms as Netflix, Hulu and Amazon Video.
Take a look at these stats showing the diversification of TV consumption.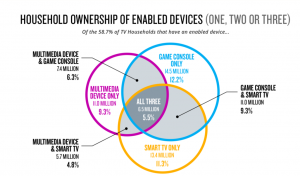 *The Nielsen Total Audience Report: Q2 2017
The translation of TV viewing through multiple channels (pun intended) is a need for both TV companies and brands to broaden their spending to incorporate these alternative, and increasingly popular, viewing platforms.
Such TV titans as ABC, CBS, FOX and NBC are wise to the change and have taken steps to ensure that their programming is not only viewable through the TV screen, but on the digital screen, as well. Branded apps, social media content distribution, even collaboration with video-on-demand streaming companies — to stay in the game, these TV companies are teaming up. For instance, in 2015, ABC partnered with Netflix to produce one of Netflix's hits, Daredevil, and more recently, The CW joined with the streaming powerhouse on such shows as The Flash, Vampire Dairies, Jane the Virgin, Crazy Ex-Girlfriend and Supergirl.
As the time-old saying goes, the only constant is change; TV — and media as a whole — is no exception. As effective advertisers, it is our duty to keep up with the latest media trends and strategically adapt to them. Here at Kazoo, we do the heavy lifting for our clients by continually learning and staying abreast of the media industry trends. Let Kazoo help broadcast your brand in the most effective way. Contact us for media leadership on your next campaign.
Sources:
The Nielsen Total Audience Report: Q2 2017
Mortensen, Dylan — The Future of TV Report
Berg, Madeline — Netflix and the CW Ink Major Streaming Partnership
Tietjen,Denali — Content Wars: How Television Networks Are Fighting the Netflix Threat