Google has an app rolling out around the nation that helps companies manage leads. It is designed to connect customers with local businesses to book jobs in your area. The companies only pays when they receive a call.
Google Local Services caters to specific service industries. Some of these industries include plumbers, electricians, HVAC and cleaners. The industries vary by market.
When a potential customer searches for a service, they see three Google-certified companies above the traditional paid search ads. Google certifies a company's work up to $2,000 at Google's expense. The green check on the three top boxes (picture below) means that a company has been certified.
In order for a company to be certified, it has to pass a background check and have its license confirmed. There is no expense to the company for this. Certification requirements vary by industry.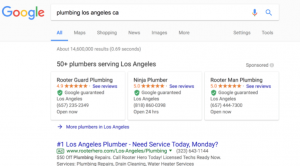 FEES:
No minimum
No contract
Cost per lead is a flat cost and varies by industry and market:

They determine the cost by vertical and what search leads are in Adwords

Lead charges are for calls only at this time
WHAT DETERMINES IF YOU SHOW UP AT THE TOP FOR SERVICES:
Radius
Google reviews/ratings
Response time
Budget (e.g., if you budget two calls per week and they are both used on Monday, then you won't show for the rest of the week)
MANAGEMENT AND OPTIMIZATIONS
There is no optimizing, like with a Search or Display Banner campaign.
What are you managing:

When the system is on and off — if your schedule is full you can turn the system off
Budget
Disputing fraudulent calls (i.e., call not in my ZIP code service area)
For more information or if you are interested in getting started with Local Service ads, the URL below will help.
https://support.google.com/google-ads/answer/6224841?hl=en