Guys, I'm here to tell you that the sweetest new event space is now available for booking! It is colorful, vibrant and vivacious with an open floor plan.
The Havana Room is in the historic Hemingway building. This superstructure is named after author Ernest Hemingway, as he spent time there writing stories for the Kansas City Star at the beginning of his career.
Whether you're planning your wedding or need to find an intimate spot for a baby shower or club meeting, there is a room to fit different desires and needs. They have an open vendor policy, so you can customize your celebration how you wish. The building is close to the Street Car, which allows for easy access to P&L and the River Market.
Come check out for yourself what a great space this place is to celebrate, kick up your heels, cut a rug, have a ball and make wonderful memories.
Event Space Details
Rooms:
The Havana Room (capacity 260) — Main event space that allows for several layouts
The Studio (capacity 150) — Second-floor studio for medium-size events or for adding space in conjunction with the Havana Room
The Lounge (capacity 15) — For intimate gatherings or for adding space in conjunction with the Havana Room
Address: 103 W 19th Street, Kansas City, MO 64108
Website: havanaroomkc.com
Contact: 913-710-7214
By appointment only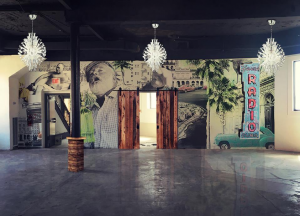 The wall in the Havana Room is a beautiful, custom-made piece that gives the place a fun Cuban flair. With inspiration from a collection of photos, Whiskey Design created a vinyl print that gives the room its spirited atmosphere.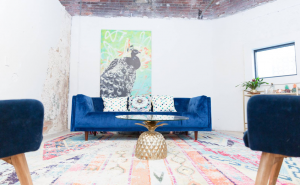 This quaint lounge works well as a bridal suite and is a great space for a cozy and comfy gathering.