We wrote recently about the explosion of Connected TV (Connected TV Wins) and how clients should be prepared to incorporate streaming options into their media plans. Building on that, Kazoo encourages a paradigm shift in how we think about TV campaigns.
Rather than approaching "linear" TV buys separately from other digital video options, let's start a conversation about your comprehensive "Video" campaign.
Cord-cutting and subscription-based viewing are experiencing an exponential rise — especially among millennials. We need to adapt to reach our key audience.
Consumers don't watch less TV; they just watch it in more places using more devices. Time-shifted viewing and unrestricted content access offers consumers more flexibility in how they consume content. That said, one area that has experienced a small decline is prime time — due in part to increasing competition from such options as Hulu and Netflix Originals. According to CTV Media, total viewing of prime time programming specifically has eroded, but a majority of that loss is offset by substantial gains in OTT over-the-top (OTT) viewing. OTT refers to viewing content via the internet — without the tether of a traditional/paid subscription to cable or satellite. Think: Roku, Apple TV, etc. While linear prime time viewing has lost approximately 24 percent of its audience over the last five years (A18–49), the overall decline is minimal when OTT is factored into the mix.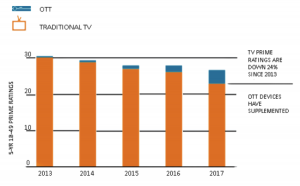 If your brand is trying to reach the same audience demo it was five years ago (or even two years ago!) using a purely linear approach, you will fail. Let's take the concept of "TV Everywhere" to a new level. If we focus on the audience and experience rather than the channel, we may uncover a more impactful way to communicate with video.