According to eMarketer, 2016 holiday gift sales are projected to hit 868 billion. You heard right — that's "billion" with a 'B.' Of that, 2/3 of the year-over-year growth is expected sales through e-commerce.
How big will your piece of the pie be this year? Have you built an effective strategy to support retail and e-commerce shopping trends? Don't panic — we can help.
Where do consumers find gift inspiration? Where should I place my brand messages? Shoppers find inspiration in a variety of ways. You need a strategy that is multi-channeled and comprehensive to break through consumers' limited attention spans.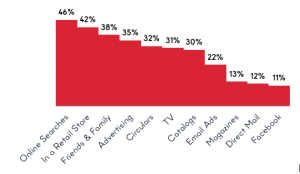 *National Retail Federation 2015/16
Am I already too late? No, but we are definitely down to the wire. According to a recent study by Rocketfuel, more than 20% of Americans intend to begin holiday shopping at least three months prior to the holidays. The peak is one to two months prior to the holiday. December is the highest "purchase" month, but those purchases are made based on decisions started in November and before. The time to initiate your strategy is now!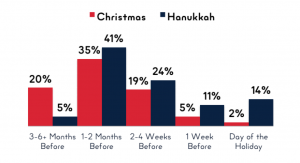 What Else Do I Need to Know?
Shoppers are fickle. They'll change their minds and make switches based on last-minute price changes, deals, delivery windows, shipping costs, return policies, etc.
Purchases will be made on ALL devices — shoppers are looking for the most convenient option that also provides verification and reassurance.
Online priming matters! The more messages and channels that shoppers are exposed to, the more they spend. Shoppers who view products online and in-store spend 75% more than in-store only shoppers (Deloitte 2015 Holiday Survey).
Paid search and paid shopping campaigns have immense value in driving purchase consideration, in supporting other paid advertising channels and in capturing the low-hanging fruit of consumers in the ready-to-buy mindset. Kazoo is a Google Partner certified in both Search and Shopping campaigns. We are in your corner to ensure that your campaigns are fully optimized for efficiency and ROI.
Here at Kazoo, we are experts at driving sales across the purchase funnel. We focus on results in all the channels that can influence shopper buying habits. In addition to traditional paid media channels, our Planner/Buyers are experts in online search, in-store marketing, direct marketing, paid social advertising and more. Contact us now to develop your holiday strategy.
Save
Save
Save