What is happening?
I made the brave switch to a cable-free world about two years ago and I haven't looked back. My couch, my sweatpants and I love the connected TV world we live in. And it seems that a lot of people feel the same way.
A recent poll by Hub Entertainment Research shows that 48% use set top boxes to watch their favorite TV shows and 52% use an online source.
Just three years ago, the numbers were 2:1 in favor of set-top box viewing, such as live TV, video-on-demand and DVR.
Viewers want entertainment and really easy access to it, which they don't have to think about. Netflix helped drive the watch-on-your-own-time sensibility early on and consumers now want more flexibility.
At first, it was just being able to watch television shows whenever you wanted. Now, there are specific television shows that you can only watch on certain subscriptions.
Hulu, a subscription similar to Netflix, doesn't sell ads into shows, but it sells audiences to advertisers. If a brand wants to reach a male audience ages 25–35 in the Midwest, it can do that. And if you don't fall into that category, then you wont see that ad. In addition to contextually appropriate ads tailored to the audience, Hulu is also mindful of ad repetition.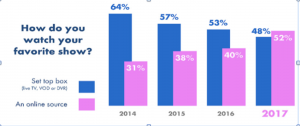 So, how does the measurement match up in a Connected TV world?
Connected TV (CTV) provides a more-immersive experience for television viewers by delivering such interactive features as Web browsing, social networking, video-on-demand and video streaming in addition to regular television content. It was also designed to replicate traditional 15- or 30-second TV commercials.
Digiday reported that 15- and 30-second videos running in a CTV environment can achieve a 90 percent completion rate. Such high viewability could lead to a cost per complete view of less than 3 cents. However, CTV environments are cookieless, meaning that most targeting is at the household level — by connecting device IDs with IP addresses — rather than at the individual level.
CTV can't get too granular at this point. A brand may be able to target women ages 20–40 with an annual household income of $100,000, but it would be difficult for the brand to add another targeting parameter, such as women who also spend a lot on makeup.
Connected TV can be purchased on a cost-per-complete view basis but there's no set standard on viewability, and third-party verification is just beginning in CTV.
Connected TV does need targeting and measurement improvements. But, for now, it's an extension to linear TV — not a replacement.
At Kazoo, we are always ready for new media trends. We can be your navigators through the ever-changing world of television.
https://digiday.com/marketing/ad-tech-eyes-connected-tv/
http://www.adweek.com/tv-video/tv-viewers-are-demanding-more-options-and-streaming-services-are-happy-to-oblige/
https://www.marketingcharts.com/featured-81176?utm_source=Marketing+Charts+Newsletter&utm_campaign=66bab681f3-EMAIL_CAMPAIGN_2017_02_22&utm_medium=email&utm_term=0_77b507436c-66bab681f3-16119953&mc_cid=66bab681f3&mc_eid=ed26751890