Do we still need traditional media? Do my customers still consume it? How the heck to do we measure it? How do I know how many people engaged?
These are questions for the new digital media age. In some ways, we have become so normalized to seeing detailed engagement metrics for digital media that we have forgotten that most of our "mass reach" media channels offer none of these. So, are they still relevant? YES! Media consumption trends will not let us ignore these channels; but we need to adjust expectations, attribution models and goals accordingly.
The graph below details the average number of minutes per day spent with media channels by adults in Kansas City (Source: Media Audit, Winter 2016). While digital media use increases every year, the use of TV and radio holds strong — 3.8 hours per day spent with TV! Even newspaper use remains significant despite rapidly depleting subscriber bases. These trends are mirrored throughout the U.S.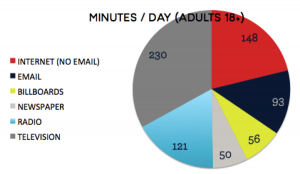 According to a 2017 Nielsen Homescan study, about 80% of U.S. households still use circulars and other traditional, printed sources for product information (January 2018).
Even as consumers embrace digital channels for retailer marketing, traditional outlets won't vanish anytime soon — they are baked into the fabric of our infrastructure.
In the same Nielsen Homescan study, almost half of U.S. households said they use at least eight different sources (across print and digital) to get information about products and sales. As a result, we need to ensure that our consumers are exposed to our messages across a variety of platforms.
Kazoo believes in a multichannel approach. A truly integrated media plan provides a synergistic lift for brands across the entire purchase funnel. Support from "traditional" media channels drives awareness and consideration that, in turn, drive efficiency in conversion across digital channels. Let us help you build the best mix